About Ajamo Enterprises
Valuing the interest of a massive clientele across the globe, we are earning huge profits. Although, our main focus is not earning profits, we strive to concentrate on attaining maximum customers' satisfaction. Focused business approach has made our enterprise gain customers' trust due to the best quality Food Products. Our product-line comprises
Fresh Fruits, Fresh Vegetables, Indian Spices, Natural Honey, Coconuts, etc.
Under the brand name '
AJAMO
', we deal with our national and international clientele ethically. We work as a
trader
and
exporter
and offer customers quality accredited offerings and a good customer support. Our plan is to keep on providing quality service to our clients without a single break even in the future.
Some Other Facts
Our company's name 'Ajamo Enterprises' is considered a synonym of perfection in the global agricultural market.
Our enterprise has focused on the quality, reasonable pricing and prompt delivery of our clients' orders since the very day of our commencement.
Our offered agricultural produce as well as food items are tested in APEDA recognized testing labs, we have nothing to fear because our offerings adhere to all the international quality standards.
Our packaging facility complies with guidelines of APEDA, utmost hygienic conditions are maintained and use of quality packaging materials is suggested.
Market research
We conduct market researches in order to form association with solely quality-conscious farmers, suppliers and brands of the sectors. From these sources, we procure offered quality marked array.
Quality Assurance
Being a quality accredited name of the market, we focus extremely on maintaining high quality of our food products. We always pack and deliver this collection to clients only after testing them in our APEDA approved quality control units.
Our Edge- Your Advantage
Timely Service: We provide commendably fast delivery services to each of our clients.
Global Service: We render quality service to our global clientele by delivering a wide array as per their requirements.
Constant Supply: We follow highly effective inventory control policies, which allow us to offer a continuous flow of stock to clients
Quality Focus: We constantly assure that prime focus of our enterprise is the quality of our range.
Packaging
To please customers, we pack all of our agricultural offerings hygienically in our APEDA approved packaging house.
Transportation
The delivery process of our range that includes Natural Honey, Indian Spices, etc., is entrusted to our skilled logistic partners spread across the globe. They assure a speedy delivery of clients' orders at all times on our behalf.
Our Team
Our company is supported by a talented and diligent team of professionals. They all work with great dedication towards quality, efficiency and customers' demands. Without their help, we would not be able to achieve high position that we have in the market today. This team is led by our managing partners,
Mr. Ajaykumar Solamke (Business)
and
Mr. Abhilash Pangare (Co-ordination)
.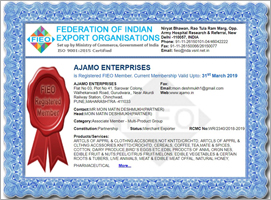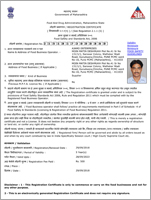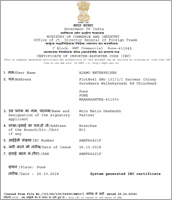 Read More